This luxury guest suite boasts 600 sq. feet of beautiful private living space. More like an apartment than a room.  The entire second floor is yours, with an elegant sitting room, curtained bedroom with queen bed, and private en suite bathroom with a shower and 2-person Jacuzzi tub to enjoy.  There is also a desk tucked away for studying or writing.  This suite is a favorite of guests.  Truly a private getaway.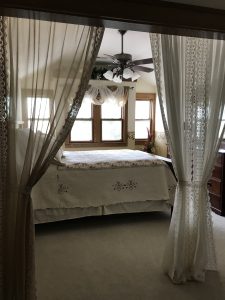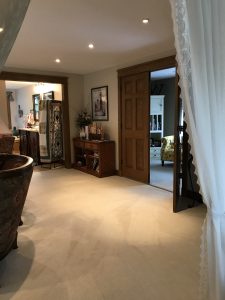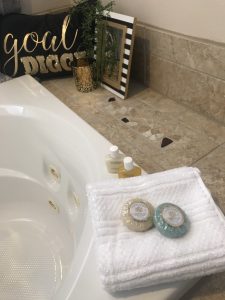 The King's Chambers Suite is a favorite for a refreshing, quiet, weekend away.  A two night stay minimum for this room.  
*Contact us for Tulip Time Rates & Availability 
---
We had a wonderful time…what we loved most about our stay was Doug and Beverly themselves!  Thank you for your servitude, graciousness and hospitality!  The B&B was very clean, beautiful and wonderfully kept and decorated. Thank you for all you showered on us that made our anniversary stay wonderful and beautiful! Thank you and God bless!

Josh and Molly, Dec. 2014
---
This truly is a resting place surrounded by various reminders of the Lord's presence. God bless you for your testimony!

Pat and Wendy, July 2015
---
We can't thank you enough for sharing your beautiful room and ministry with us. You have put a lot of attention to detail into your B&B and it shows. Yummm…the breakfast was delish and picture perfect!

Jay and Marge, August 2015
*****
I want to thank you for a beautiful stay at the Dwelling Place.  It has been a wonderful and refreshing time away.  the Dwelling Place is filled with scripture, everywhere you look.  I am so thankful for this reminder and I know god needed me here in this moment, to be reminded of how simple it can be to fill my mind with scripture all over my home.  -Wife -Casandra 2022
thanks for all your hard work to restore, renew and create life into this wonderful home. I love meeting people who answer the call and buck the status quo!  The Word reassures, like you have, that we are not meant to be of this world for our personal benefit, but we are designed to help others and find ways to benefit our fellow man.  That is when we live in heaven on earth.
Have a great day!  – Husband Evan 2022
*****
Wow!   Bev and Doug you are both such blessings!  You may not be aware of how much!!  We are so very thankful to not only be blessed by your amazing hospitality, but also to have gained such wonderful friends.  Anne 4/23
*****
Doug and Bev,  Cannot express how grateful we are for your friendship and hospitality.  The Dwelling Place and spending time with you both has become such a joyful and restful time.  Truly does feel like FAMILY!  We love you guys and hope to see you again soon!  Justin 4/23